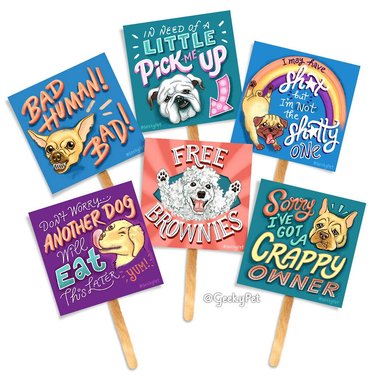 Born out of frustration with all the dog poop left around my neighbourhood. #PoopApologies is a series of hand-lettered signs that creatively calls out irresponsible dog owners. By placing these signs around Toronto I'm drawing awareness to the problem of abandoned dog poop.
Don't blame the dog, blame the owner!
You can read more about the project here on my blog.
SHOP
Pack of Signs - Get your own set of PoopApology signs. The perfect gift for that person who's tired of dog bombs on their lawn.
Paintings of pets as pop-culture icons. This ongoing passion project was featured on Buzzfeed, The Mary Sue, I Can Haz Cheezburger. Even gracing the Facebook page of Iron Man himself - Robert Downey Jr.
SOCIAL
Instagram - @GeekyPet
Facebook - @GeekyPet
SHOP
Etsy Shop - Custom pet portraits, prints and stickers.
TeePublic - For t-shirts, notebooks, phone cases and more.
This is a passion project where I biked around Toronto, the city I love, drawing and illustrating my favourite places.
SHOP
Online shop - For art prints and totes