How much will it cost to illustrate my children's book?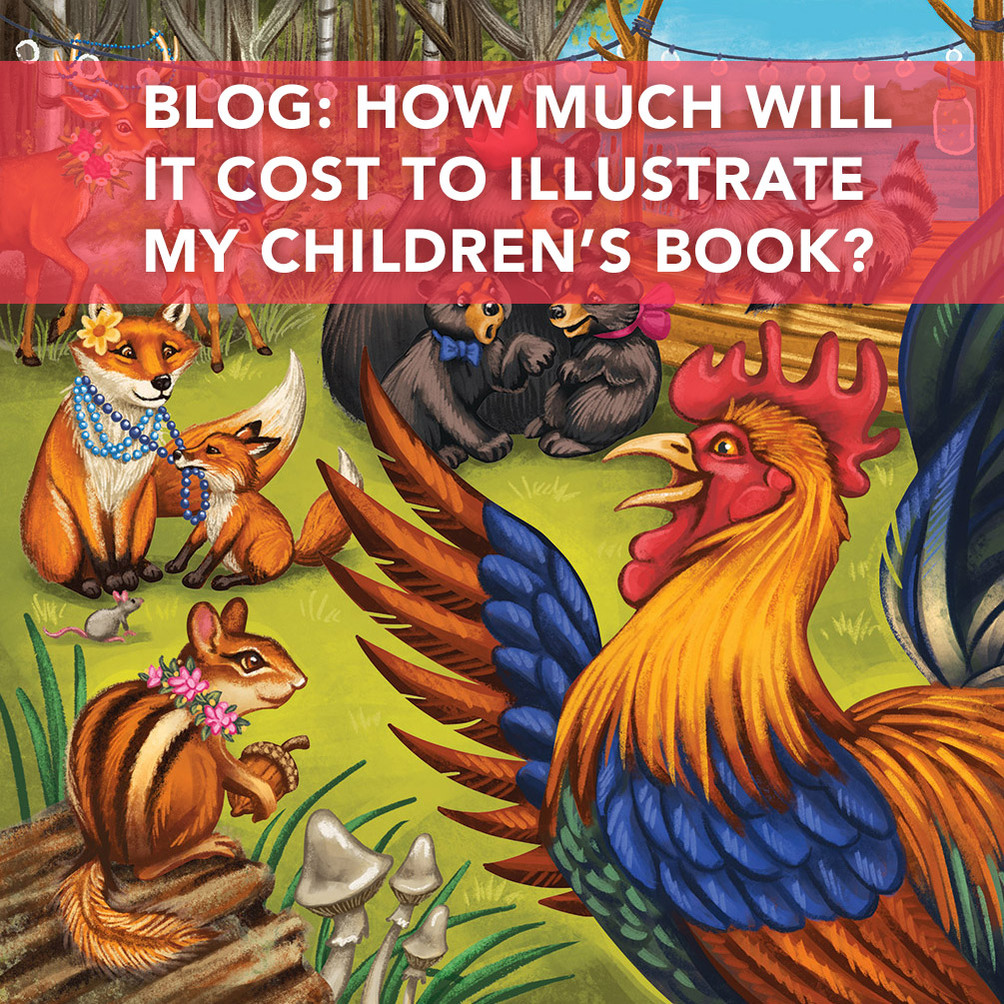 I get a lot of inquiries from first time authors asking "I love your work! How much will it cost to illustrate the children's book I've written?" I'm super excited for these authors, it definitely takes a lot of time, talent and guts to write something and put it out into the world.

I've decided to put my thoughts into a blog post to try to educate and inform authors of all the work that happens behind the scenes, work that you may not be aware of. Below I'll walk you through the process of hiring me to illustrate your book.
First off - hooray! You've decided to take the big leap and hire an illustrator! That's amazing. Hopefully this blog post will help you enter into this process more confidently with a clearer understanding of what is needed from you before you can work with an illustrator.
This post also assumes that you've decided to self-publish instead of submitting to a publisher (which is a whole different thing, as publishers will usually choose the illustrator for your book, of which you will have little say. Hooray for the freedom of self-publishing!)
So what goes into making a children's book from the illustrator's perspective? What will be required on your end?
Here's a step by step breakdown.
STEP 1 - THE MANUSCRIPT & PRINTING CHOICES
I'll need a well thought out, edited manuscript. This piece of writing should be a final copy because if there are changes to be made later on it makes my job more difficult, and it may cost you extra for changes.
A typical children's book is 32 pages - some can be other sizes, like 8 for a board book, 24 or 48 - but always a multiple of 8 because of the folded paper sheets. 16 sheets of paper fold into 32 pages which is the perfect size for binding. Your story should fit this format and take into consideration that you may want to add a title page, dedication page, copyright info and end papers.
You should also consider how the story flows from page to page. It's better to reveal a major plot point by turning a page, rather than have it as the second page of a spread that is seen while you're still reading.
STEP 2 - PRINTING CHOICES
You'll need to figure out what format you'll be printing it in. If printed will it be a hardcover, soft cover, perfect bound? Will it have a dust jacket or not? End pages? Will it be just a digital format for reading on e-readers?
I'll also need to know what size your final printed book will be. You can usually find a list of available sizes from the company that is going to be printing your book.
STEP 3 - PDF LAYOUT DOCUMENT
With all this information I will map the layout out as a PDF. It will show all the double page spreads with your text on them. This will allow me to sketch out my imagery ideas and see how they all flow together.
STEP 4 - THE CHARACTERS
I'll need character descriptions, as well as any thoughts on how you've envisioned them looking. Of course, I'll be bringing my own ideas to the table after reading your manuscript, but I like to hear what the author has in their head so that I'm not too far off when I start trying to figure it out. This stage usually takes a while. Which is also why the more you communicate your thoughts, feelings and needs about the character and their personalities the smoother it goes.
I also really appreciate when authors do some additional work on their end and send me reference photos or mood boards. These could include illustration styles they like, colours or images that capture certain feelings connected to the character. Please keep in mind that I will be working in my own style though, not copying someone else's. I've even had one author send me celebrity photos for how she pictured each one of her animal characters that were super helpful.
I'll work up some preliminary sketches. You give your feedback. I make 2-3 rounds of changes to these sketches. Additional changes beyond this are billed at an hourly rate, another good reason to have a solid idea of what you're thinking.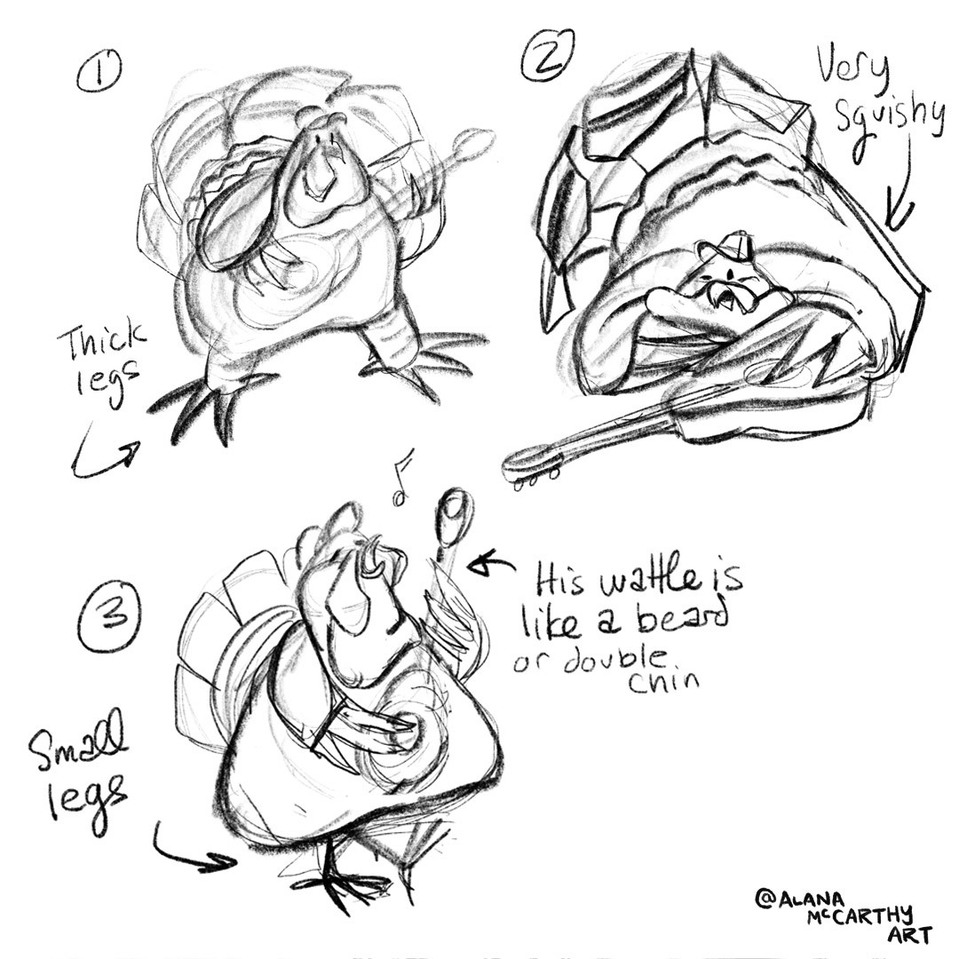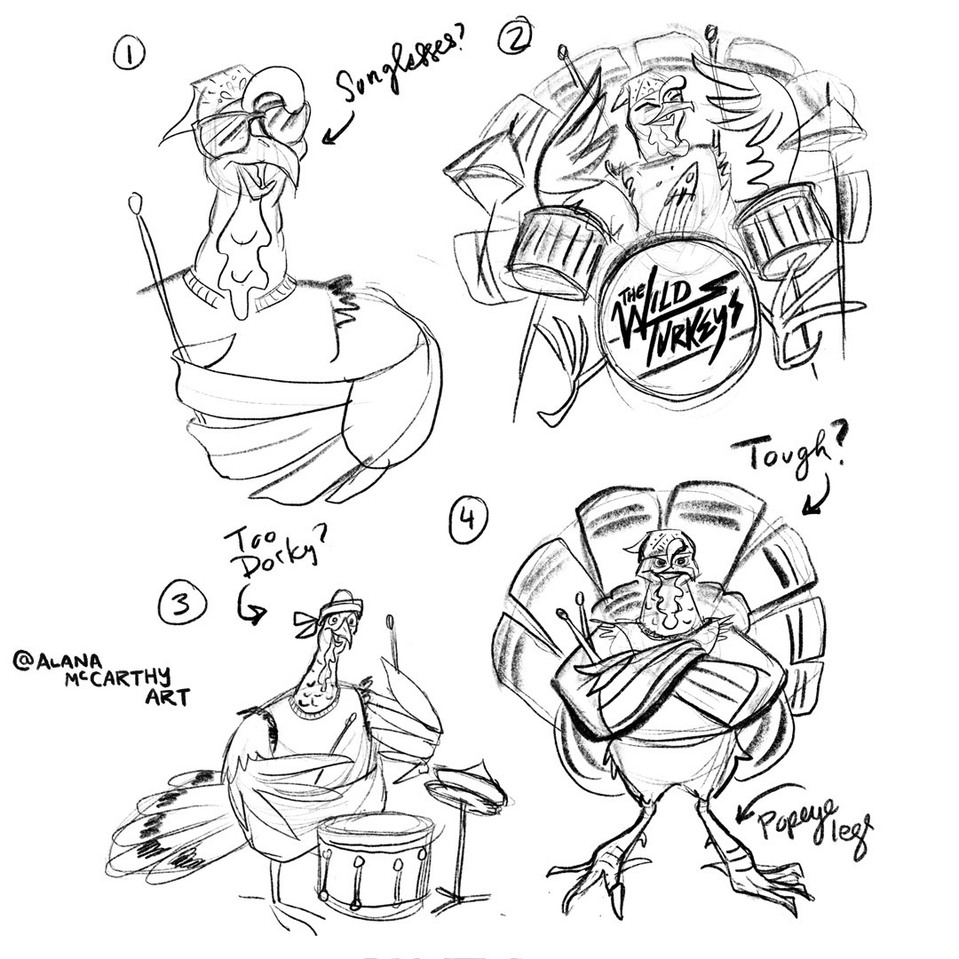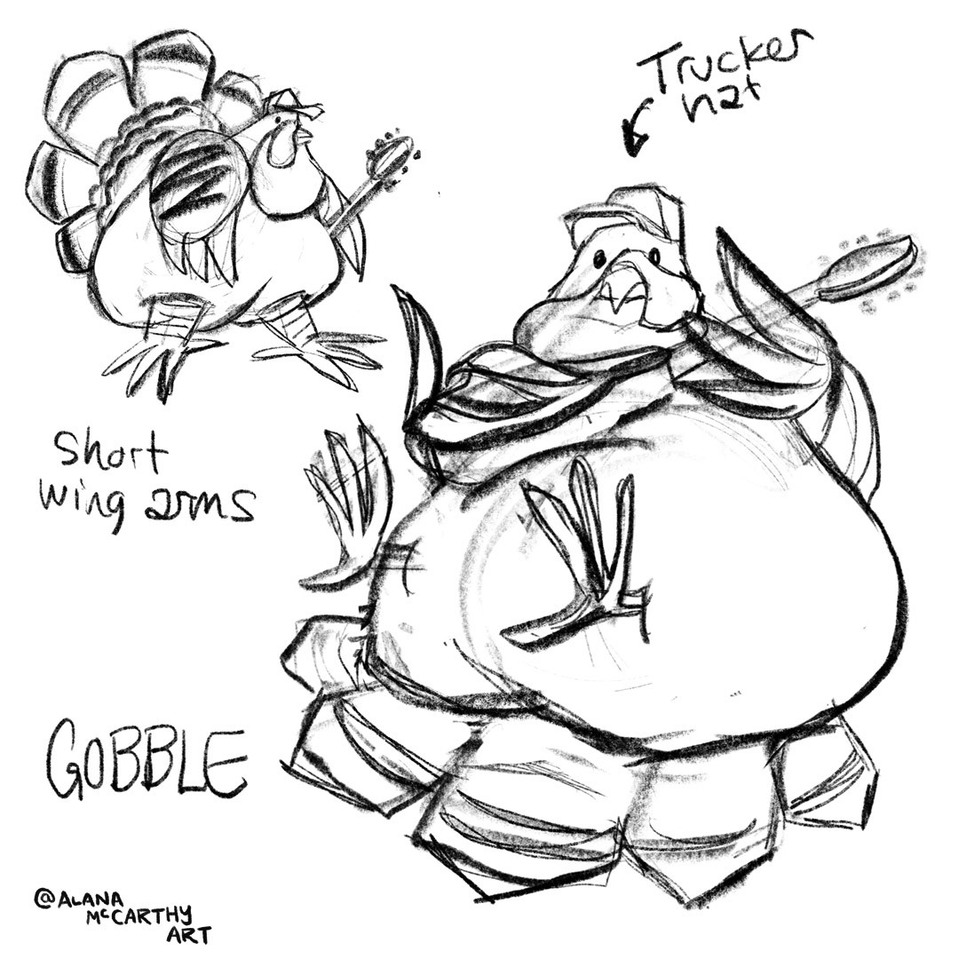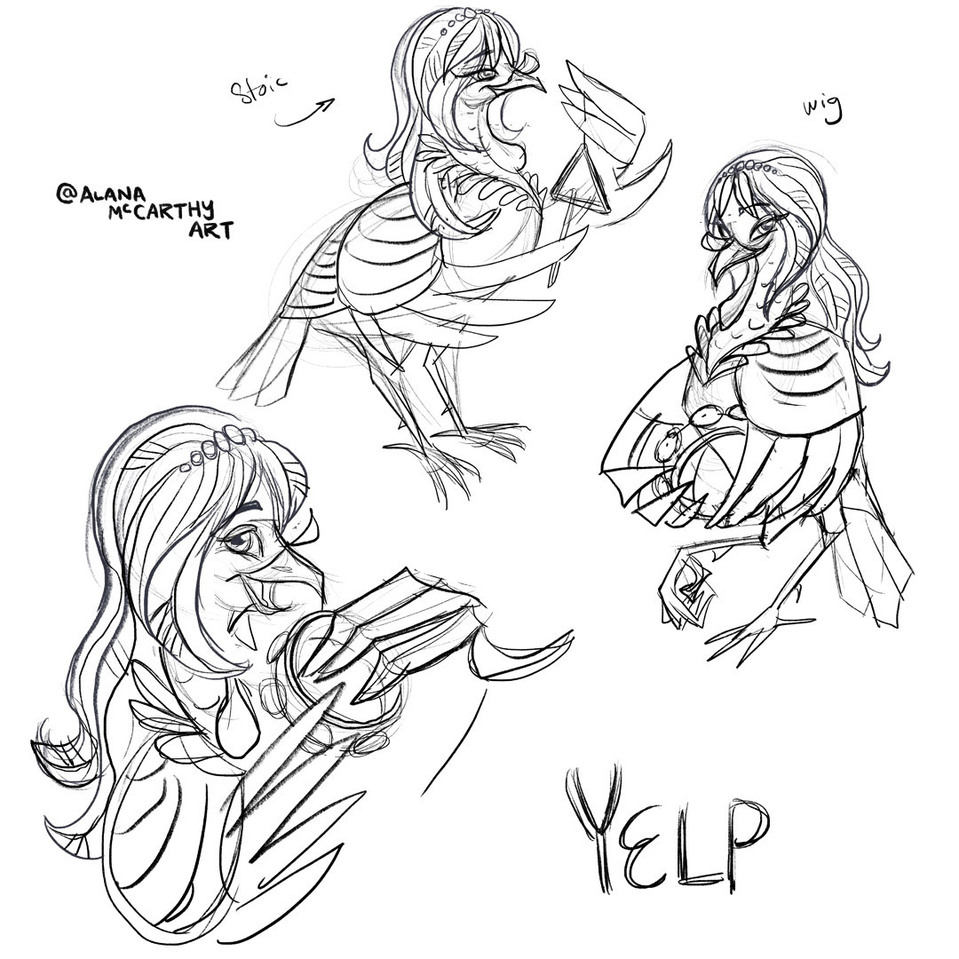 STEP 5 - CHARACTER LINEUP
When multiple characters are involved these sketches will be put on a character lineup, showing how each of their height relates. Think of one of those police lineups with the height lines - but of course, no arrests ;) I use this technique from my days working at an animation studio. This lets me make sure that the characters look consistent when they're in the environments together. I will paint a coloured version and send it to you for approval. When we've nailed it down this will become the blueprint for how the characters look in the book.
STEP 6 - THUMBNAIL SKETCHES
These are very rough sketch ideas of what each page layout will look like. Some may be super rough, others more tightened - it really depends on what I need to communicate. These will be shown on the initial PDF with your story on the pages from step 1. We will discuss this stage and make any changes necessary. 2-3 rounds of changes again.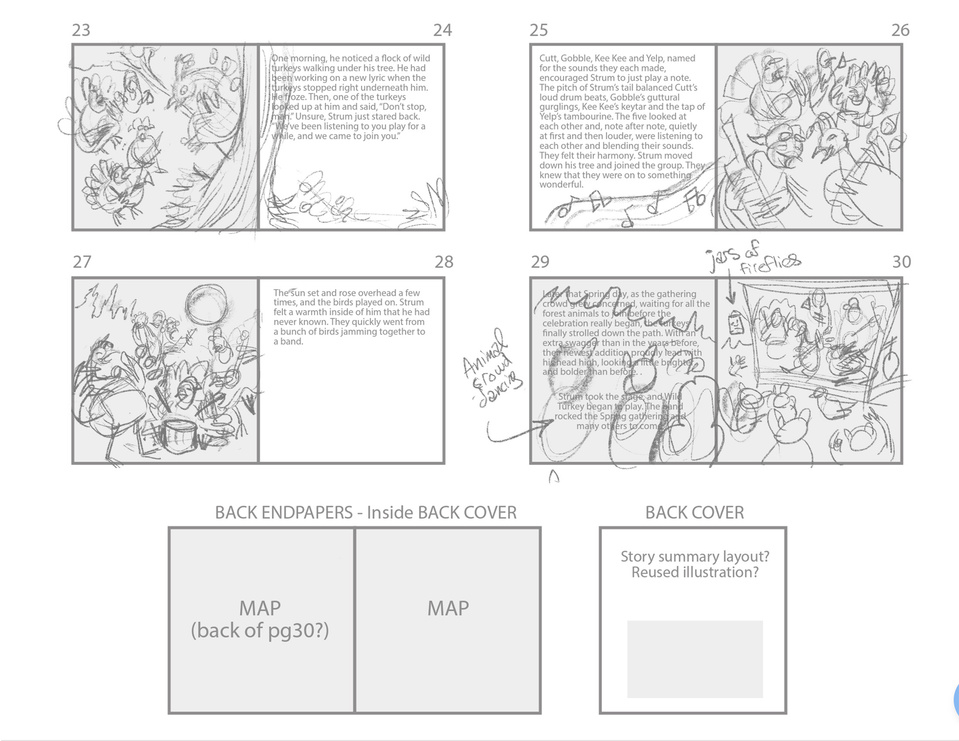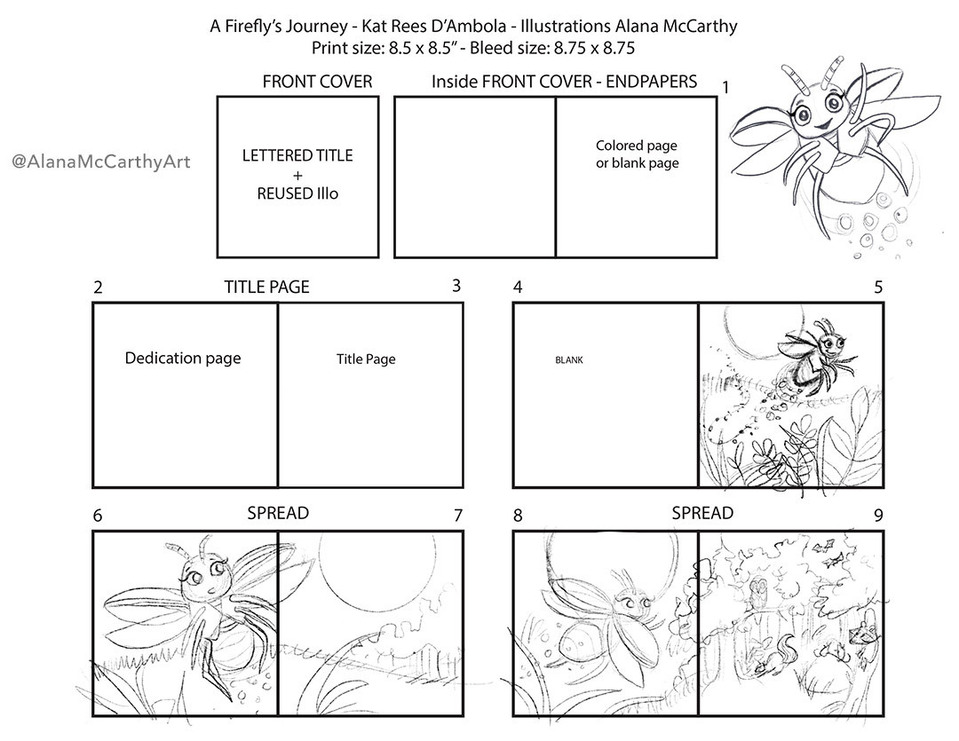 STEP 7 - LINEAR DRAWINGS
After all that initial work we're FINALLY ready to go to linear drawings. These are tightened drawings that are based off of the approved thumbnail sketches. These drawings will be done to size, accounting for any trims and bleeds required by the printer. They will form the basis for the coloured illustrations. So once again, we have to be sure that everything works for you and it's all approved before moving forward. This is where your book will really come together and you'll see it all drawn out in black and white. It's definitely my favourite stage because it's really exciting for the author to see their vision come to life.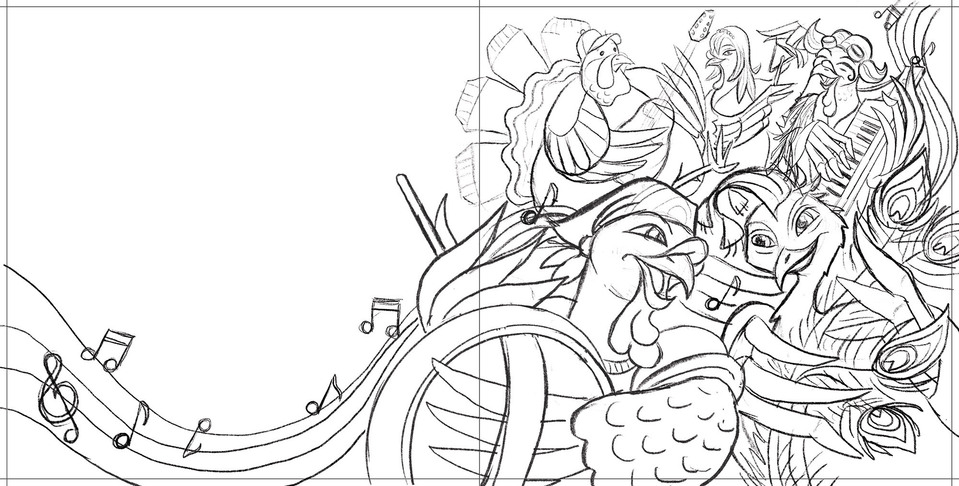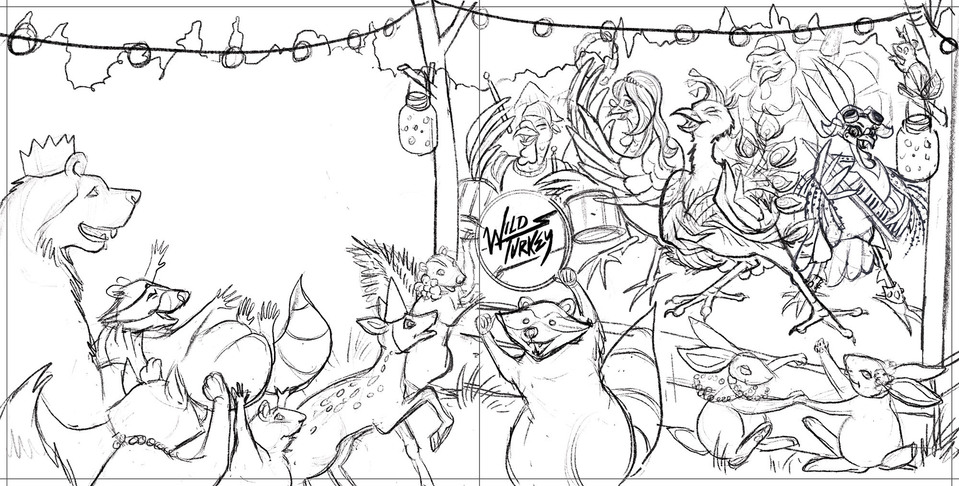 STEP 8 - PAINTING
Woo! That was A LOT of pre-planning wasn't it? It's all really necessary work in order to get a book that looks good and that has consistent characters. A book that will make you and your readers happy, and most importantly, will look professional enough to attract buyers - maybe even win you some awards like the book I worked on for Kat D'Ambola - A Firefly's Journey
We're finally at the most exciting stage - painting! The drawings you approved will be used as the under layer for the digitally painted illustrations. I typically paint digitally on my iPad in Procreate and then bring it into Photoshop for the final tweaks.
At this stage everything should be approved, and there should be minimal changes, if any.
STEP 9 - COVER
For the cover you have some choices. We can either reuse an illustration from the inside, or I can create a new image. I'm also skilled with hand lettering, so I can create a completely custom lettered title. Or we can lay it out using an existing typeface. Or you can leave it blank and have your book designer lay it out. I'll also need to know if you want the back cover and spine laid out, same options as the front cover.
STEP 10 - FILE DELIVERY
Along the way I'll be showing you low res JPGS in Google Slides for viewing and approval. These are not suitable for printing. At the end of the process, after payment, you will get all the high resolution files in CMYK, prepped with crops and bleed and ready for your printing company. If you're having someone else do the layout of the text then my work is pretty much done. I'm happy to take a look at the final printer's proof before you commit to printing it. I've got a good eye for any mistakes.
STEP 11 - BOOK DESIGN (Additional fee)
I also have experience as a graphic designer. I'm more than happy to do the complete layout of your book. This would include the front, spine and back cover. As well as all the interior font choices and text placement. Unless included in the package price, this is an additional fee to the illustration.
STEP 12 - CELEBRATE YOUR FINISHED CHILDREN'S BOOK!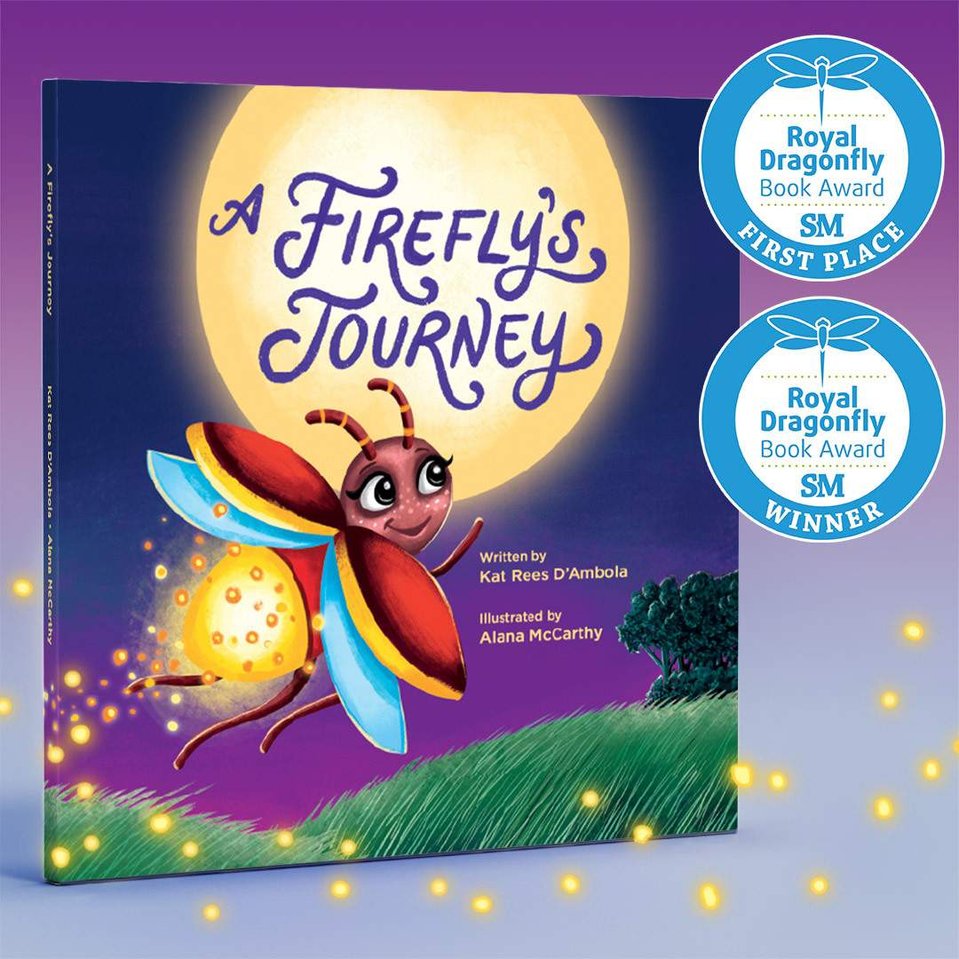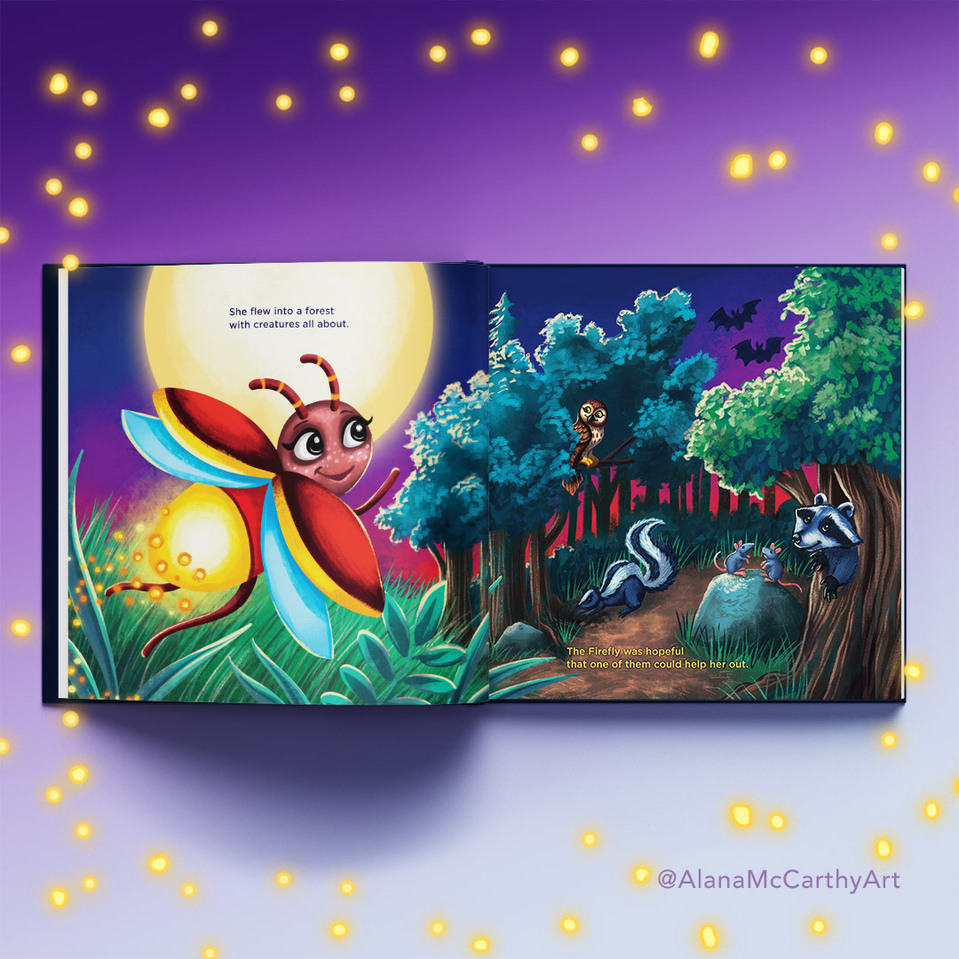 STEP 13 - MARKETING IMAGES (Additional fee)
Yay you have a finished and printed children's book! Hooray! I'm so excited for you and happy to be part of the process.
Now how do you plan on selling it?
Are you going to be making a separate social media account for it? A whole website? Send out promotions to your newsletter list?
These are all things you have to think about and consider, because if no one knows you made a book, no one will buy it.
I can also provide graphics for your online efforts. I can provide you with a palette, social media banners and backgrounds. Everything you need to make your brand look cohesive and help you sell your wonderful book.
Children's books are definitely a lot of work. Sketching and figuring out the look of characters. Mocking up the flow of the layout, planning and drawing all the spreads and then finally painting everything. There's also the option of adding on the design of the book. Laying out each page so it works harmoniously. Creating the front and back cover layouts and prepping for printing.

I have 20 years experience, worked with high end clients and have won many awards over the years. So you can hire me with confidence and know that you'll definitely have a damn good looking book at the end of it (tooting my own horn ;) ) That being said, because of my experience, my prices are at the higher end of illustrators. I definitely bring a lot of value to the relationship. Not only will you end up with beautiful imagery that will help you sell the book, but I can also guide you through the entire process, with insight a newbie wouldn't have. I've also got 8 years of in-office graphic design experience on kids brands, so I can handle creating a beautiful layout and choose typefaces for your book that will work with the illustrations.

Here is a summary of some questions I'll need answered before I can provide you with an exact quote:
How many pages do you see the book being? What size?
How many illustrations? (Double page spreads or single pages? Or a mix of both?)
Do you see the illustrations being really detailed, or very simple?
Can you email me images from my portfolio that you're drawn to?
Are you looking for just the illustrations, or for the illustrations and layout?
Cover - would you want a new image or reuse something from the book?
Cover - would you want hand lettering or are you ok using a typeface?
Cover - Do you want me to lay it out, or do you have a book designer?
Are you self publishing?
Do you have a printer yet?
Can you send me the final manuscript?
SO HOW MUCH DOES ILLUSTRATING A KID'S BOOK COST?
The Graphic Artist's Guild book (pretty much THE manual for commercial artists) gives the range for picture book illustration from $4000 - $60 000. Quite the range right?
I find that my prices for self-publishers fall between the $9 000 - $20 000 range depending on level of detail, amount of characters, number of pages and whether you want the full book designed and ready for print.
WOW! THAT'S A LOT OF MONEY
Yes, it is, but it's also a lot of work as I'm sure you can see from all the info earlier in the post. The whole process usually takes me at least three months.
I'm happy to work with you to scale the budget more towards your needs but I also value my time, talent and the years of educational investment I've made in my career.
Some ways to simplify the work process:
Making the illustrations simpler - Example: a simply textured coloured background is much easier than a full landscape with buildings and trees.
Having less pages and less illustrations.
Developing only the main characters first. Allowing the secondary characters to be developed within the thumbnail and sketch stages.
Reusing an image from the interior for the cover.
Using type instead of hand drawn lettering for the title.
Remember that people do truly judge a book by its cover when it comes to picture books. The illustrations can make or break your sales. I hope you found this informative, and if you'd like to discuss starting your own book project with me, drop me an email!