7 tips for working at home from an illustrator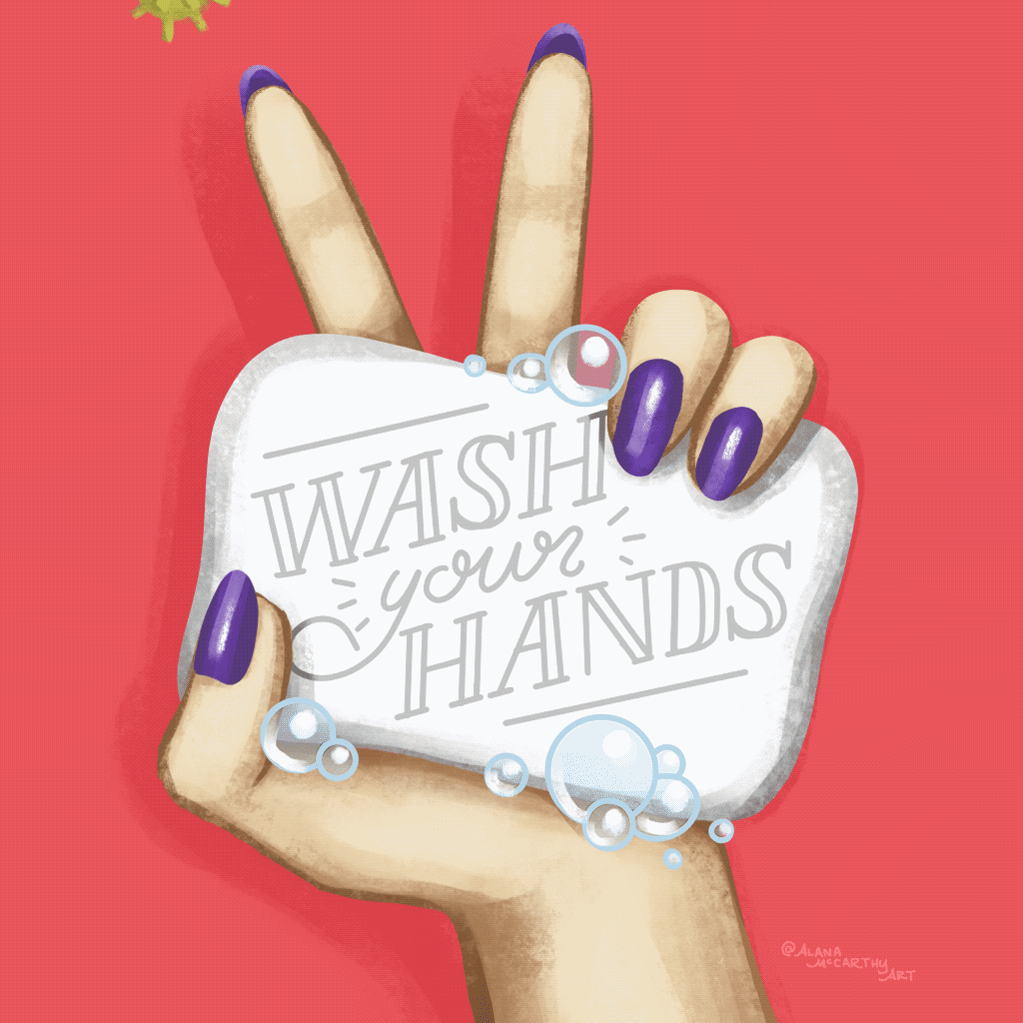 Welcome to the brave new world of working from home! I've got over a decade of solitary desk time under my belt and I'd love to share some tips with you.
First off, how is everyone holding up with this change in lifestyle?
I'm finding this COVID pandemic a time of so many contrasts. There's the need to stay inside and isolate from other humans, yet there's a new amount of connection as we all start phoning (omg, is this the 90's again?) and using our web cams to virtually spend time with each other. There's the fear of the spread of the Corona virus versus the feeling of hope as we watch it level off in other countries. There's the loss of business as shops, events and restaurants shut down, but there's a new wave solidarity as we share skills, exercise classes and free resources online. There's the overwhelm of so many things to do and not wanting to do anything at all. It's like everything is in flux as we try to get used to our new reality.
I definitely had a couple days of anxiety and panic, especially when comic conventions I had tables at hadn't been cancelled yet. The uncertainty of whether to go or not was eating me up and I got caught in a constant scroll searching for more information. Watching the news feed as the virus spread all over the world. Searching for answers, watching investments drop in value, being trapped inside, home schooling my children, searching for toilet paper, washing hands until they're raw, cancelling flights and hoping to avoid this invisible killer. The constant media feed is definitely something you have to step away from for your own mental health.⁠ Thankfully, my conventions finally got shut down and then I could relax, start to cancel travel plans and could put down my phone for a bit.
A lot of my feelings tend to get funnelled into my art. Although I try to make uplifting work, sometimes you just have to let the muse lead you where it wants to go. I felt like I was trapped in a post-apocalyptic B-movie. My panic inspired this illustration.
Art can totally be a kind of therapy and I'm feeling much better now.⁠⁠
Since I run my own illustration business, I'm used to working at home and the kids have actually been pretty good so far. We're trying to get a mix of activities that keep them off the screens as much as possible. They made a laser course to crawl through in the hallway using red ribbon and tape. We've been playing a lot of board games and they even did some yoga with me.⁠ I know it will be challenging next week as they will no longer be on March Break and I feel the pressure to keep them home schooled and up to date with the curriculum. I'm thinking of making some kind of loose schedule that doesn't allow for non-educational screen time during the day. Otherwise, I find they're very good at fighting and whining their way into another hour of video games.
⁠I think it's incredibly important to stay home. I think we should all pretend that we have the virus and could pass it on to others. If everyone followed this we definitely have chance of slowing the spread. Please everyone look to Italy and see how much they wish they could go back in time and just stay home instead of continuing their routines like nothing was happening.⁠
My family has been practicing social distancing and staying at home as much as possible. We live right downtown, so there are a lot more people around to run into. We've gone on one walk and managed to stay away from people. If I do go out for groceries there's a lot of singing and scrubbing when we get back.⁠
Unfortunately my husband is in an essential service and has to continue to work. His work has provided him with N95 masks and nitrile gloves. They've also put policies in place to minimize the amount of contact he has with others. He says people are being very respectful and staying back from him as he does his job.
I'd like to share my routine and 7 tips from my years of working at home:
Wake up at a decent time, shower and get dressed. I also put on makeup. All this really helps with my mood. I find if I stay in pyjamas all day I just feel like lazing around on the couch. This routine mentally prepares me to be ready to work.
Exercise. I usually do an online workout right after I drop the kids off at school. Of course, that will change with them being home. I find that taking half an hour to exercise doesn't really make that much of a difference to my productivity. Yet a half hour of motion makes a

HUGE

difference to my mood and focus throughout the day. I also switch it up - sometimes I'll just take a longer walk before I come home, or ride my bike to run an errand.
Take breaks. Try to eat lunch at roughly the same time, and away from your desk. Embarrassing behind the scenes: I usually put on music and sing loudly as I'm making my lunch. I do some squats, stretches or jumping jacks as I wait for my bread to toast (I'm the sandwich queen!) I try to have a book on the table that I read, or if the weather is nice I'll eat outside on my deck and get some fresh air.
Switch up your tasks. If you're losing focus or find yourself getting bored with the task at hand switch to doing something else. If I can't draw I try to use my time to update my website, do a new Skillshare class or organize my finances. Sometimes even just putting on music or a podcast helps put my brain back on the right track.
Be flexible. With kids at home you may not be able to work a straight 9-5 anymore. Working your hours in little chunks helps. Before this quarantine I would work during the day, take a couple hours out to pick up the kids, hang around the school yard, come back and make dinner and then do a couple more hours before starting the kid's bedtime.
Be kind to yourself. Some days I'm so scattered, I've got a million tabs open and even switching tasks feels futile. If that happens I take it as a sign that I need to rest. Naps are a definite benefit to working at home. I find it's sometimes exactly what I need to hit that reset button. However, my biggest tip is to set an alarm. I've found that 20-30 minutes has always been the perfect amount of time for me. It allows me to drift under, start to dream and then come back out of it before I'm groggy and disoriented.
Stay connected. Video chat with friends, clients, co-workers. Talk on the phone. Talk to your pets. Texting and email is not enough.
Thank you to the health workers at the front lines, the postal workers delivering our mail, the pharmacists and the grocery stores staying open to keep everyone fed. Thank you to everyone else who is taking this seriously, keeping your distance, staying home and washing your hands. We're all in this together. Stay safe!