2020 goals and reflections
Happy New Year! It's the start of a new year and a new decade - 2020!
I wanted to take a moment to share some of my goals for this year, and also reflect back on my goals and accomplishments from 2019. I've never been one for new year resolutions. Actually, last year was my first year creating goals and I found it really helped me assess where I was in my creative business, and how I wanted to move forward. It also created accountability and clarity in what I wanted to accomplish. It was also fun to look back and see how many I actually stuck to.
First up, what I hope to accomplish in my business and personal life for this upcoming year:
Mailer promotions - I want to start sending physical mailings to art directors at design and ad agencies, book publishers, and board game makers. I've joined up for a year with Hire an Illustrator and hope to use their database to send out targeted postcards. I'm hoping they're a good alternative to getting an agent.
More illustration samples - Continue creating and mocking up artwork samples of the kinds of work I would like to get. Showing how my work and design would suit a specific project. Especially book covers, kids natural science, board games and food and wine/beer labels.

Social Media - Stop stressing over Instagram, find the fun again. Don't place so much value in it, as it's owned by a giant corporation who's bottom line is to just make money on it. Use it as a jumping point for creating projects in my portfolio, allowing others to come along for the ride. Make projects and posts that show off my skills while helping others learn, grow or laugh. More "how-to" and interactive infographics. Create community and use it to connect with other creatives. Participate in challenges for fun. Collaborate. Stop stressing over how my grid looks. (Ugh.)
Start my email newsletter - Design it, wrap my head around what I want to offer in it and offer a useful freebie or two to help grow my list. Create some kind of creative challenge.
Travel to more conventions - Apply to some new conventions for Geeky Pet and drop the ones that aren't performing as well. Look into Designer Con, Cat Cons, Fan Expo Dallas and Boston.
Art products - Start making my own drop shipping products on my site rather than relying on sites like Redbubble and TeePublic which only pay their artists a small fraction of the profit (booo) and keep the customer lists to themselves. For Geeky Pet, create more of my own designs for cat and dog lovers.
Take action! - Less time thinking, more time diving in. Stop overthinking and just do. Don't be scared of failure, even failures are filled with learning opportunities.
Follow through - Don't just make work, put it out there and forget about it. Get it in front of the right eyes through marketing and reaching out. Being scared to ask is an automatic no.
Create rather than consume - Less scrolling feeds, more creating. Draw as often as possible - remembering to work

IN

my business, rather than just

ON

my business. Use my creativity to its fullest potential whether illustrating or in coming up with cool self-promotion. Stop comparing myself to others, just keep moving forward on my own path and own style.
Write more - Write a lot more. Post to my blog weekly, or at least bi-weekly. I've got a knack for it and with 18 years of experience in the creative industry I sure have a lot to share. Post what I write to Medium and my newsletter as well - three birds with one stone kinda deal. Also write about subjects like mental health and parenting. Start drafting out my kids book ideas.
More skills to pay the bills! - Learn more new things like creating motion graphics in Procreate 5 and After Effects. Tighten up my skills in inDesign by creating my own self-directed projects like an art calendar or product packaging. Learn more about marketing and building my creative business. You may also have noticed I wrote "voice acting" in there. I've always had a way with mimicking sounds and find myself reading novels to my kids using 6+ different voices for characters. I think this would be a fun thing to try that is completely outside my box of visual skills.
Make more money than I made at my day job - This is a big one that I'm putting out into the universe. I want to work smarter, not harder and with better clients. 2020 is the magic year, I can feel it!
More murals

- Paint murals when the weather gets nice. Or start a couple indoors. At least one with lettering.

Learn to spray paint - Brush murals are fun but so time consuming. I want to try spray. I hear the secret sauce lies in the nozzles you can swap out to get different effects.
Workshops and online courses - Still nervous about this one. I have to figure out what I want to teach and what people would want to learn. I want to poll my social audience to get some ideas. I bought Lauren Hom's Workshop on Workshops to also help me work through and set this up. I also have kids and a pool of parents who would love their kids to get more creative. So maybe kid classes are a route to try too.
Make time for friends - Seeing my friends and people in real life really energizes me. However, I never make it enough of a priority. I'm going to start scheduling meet-ups with friends, work at cafes with other freelancers and maybe get over my hosting anxiety and have a dinner party or two. I also want to attend more design shows and events, as I love meeting other creatives and am inspired by different ways of working.
Make time for exercise - I'm already pretty good at staying active - living downtown is great for that - but I know I could do better. I feel great after yoga, so I want to create a habit of at least half an hour three times a week. If work builds up and I don't have time for that, then bike as much as possible or go for a walk during the day. Swimming is always fun too, and the kids also love it.
Stay clear and focused - Find ways to organize my life so I don't get so muddled in my mind and forget to act on things. Work on one thing at a time rather than a lot with no momentum. I want to try to create a a calendar of tasks to see if it helps. Continue on with therapy as it seems helpful.
2019 was a great year filled with lots of learning and growth. Here are some thoughts on what I've accomplished over the last year.
I worked with quite a few new clients, and had a few old ones come back for more. Every time one project would end it seemed another one would pop up.
I found a clarity in my new style by spending the year building up my portfolio through personal sample projects and client work.
Made enough to not have to dip into my savings! Diversifying my income sources between client work, Geeky Pet, conventions and commissions is working really well. Would love to add online courses and workshops to that mix.
Relaunched my website, with a landing page that focuses more on my accomplishments, services and years of professional creative experience. Removed my design work from my old job, focusing my portfolio on primarily illustration - exactly what I want to do. I aim to stay focused on that and not compromise or fill up my time with work I don't want to be doing.
Painted two murals. One on a garage as practice, one on a rain barrel for a client.
Participated in Inktober and created 15 drawings - my personal best so far. (Woot woot!) Loved this almost-daily creative exercise and found I got some great results. I want to turn some of these into products.
Participated in an Instagram pod of different creative ladies. We would all post positive comments on each other's posts to boost engagement. I really enjoyed seeing all the amazing work but eventually it became too time consuming. I also felt like it wasn't moving the needle in terms of creating a real community, or adding followers, so I left. However, having to come up with positive comments every day for months had an unexpected side effect. It changed my own inner thoughts to be much more positive. There's definitely something to be said for a positive mindset.
Made tote bags for my Drawn to Toronto passion project from last year. Sold them in physical stores in Toronto as well as online.
Launched another passion project: PoopApologies. I want to start placing these signs around in the spring. Need to get better with my follow through and creative ways of promoting these projects. I love the excitement of the launch but have to keep it moving beyond just that.
Took on a lot of different client projects and am starting to realize what kind of work I

DON

'T want to do, and what I want to do

MORE

of.
Realized my worth, said

NO

to projects that compromised it.
Travelled for work and pleasure. I'm so inspired by discovering and experiencing new places. 2019 included - New York, Montreal, Halifax, Calgary, Ottawa, Orlando, Miami. 2020 plans so far include Calgary, Banff and Ireland.
Started therapy to get things out of my head and get an outside opinion. It lead to a lot of realizations why I am the way I am and what I can try to shift. I plan on doing more in the new year.
So how did I do on my goals from last year? Well, a lot of them have shown up on my new list. Here's the summary illustration again.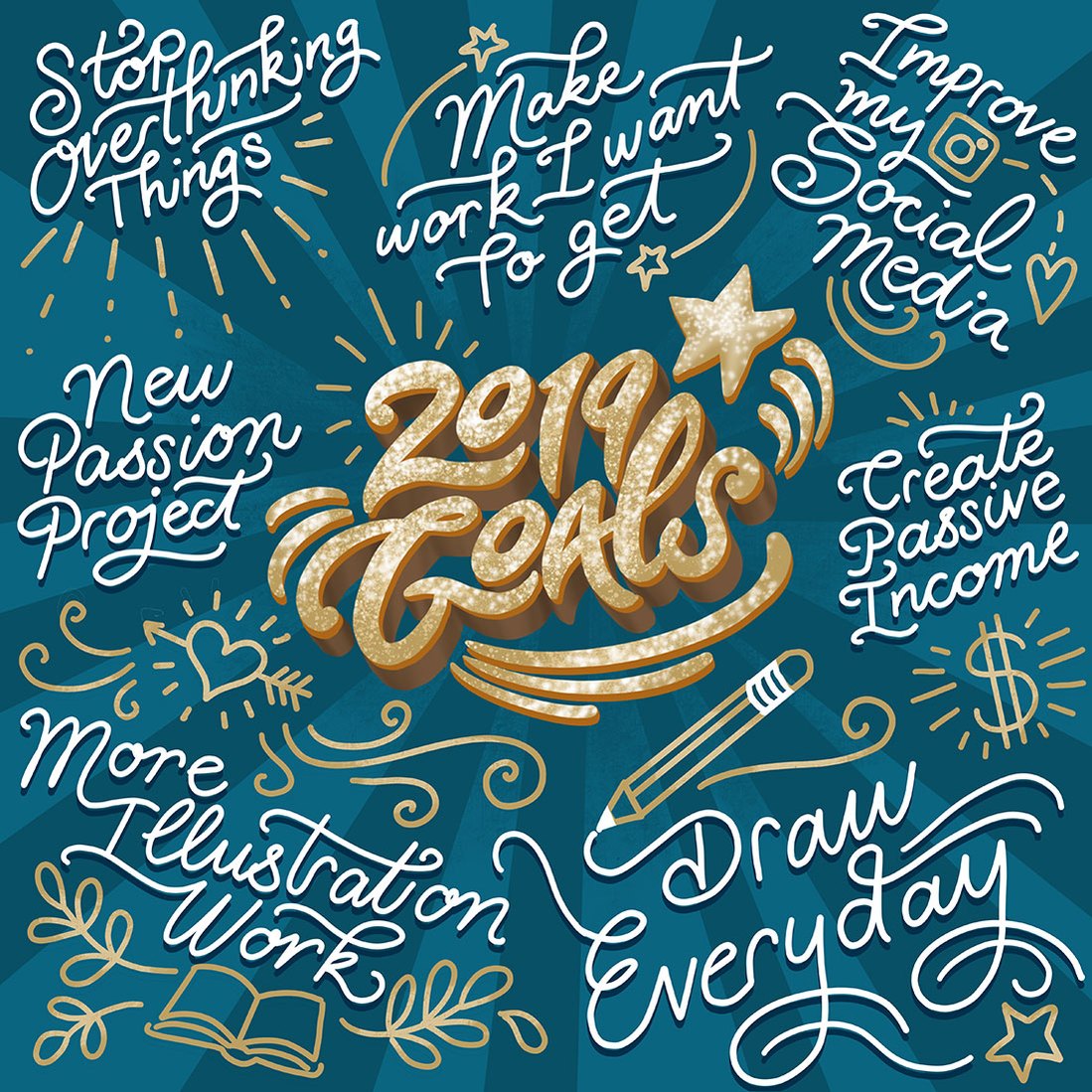 Stop overthinking things - I think this will always be on my list. I feel that I did much better at putting things into action rather than thinking them to death in my head.
Make the work I want to get - Added a lot of new pieces to my portfolio like book covers and portraits. Still have a few more on my list that I didn't get to.
Improve my social media - I've learnt a lot over the year. I've also tried to make my grid look better on Instagram and be very intentional with my posts. I think I can still improve more this year.
Create passive income - Other than Geeky Pet, didn't do too enough of this. So it's on my list again.
New passion project - PoopApologies. Check.
More illustration work - I think I did pretty well on this goal despite not promoting myself beyond social media. Here's hoping that reaching out more will gain me some more work in 2020.
Draw everyday - This one started out strong but then faded later in the year. Inktober helped.
What are your goals for the new decade?